Cake Smash Theme Ideas for your Andover MA area First Birthday Portrait Session
Cake smash sessions are some of the most fun we have in our Andover MA portrait photography studio. Whether it's a simple and straightforward portrait session, or a creative and colorful experience, we love all cake smashes. And I have to say, I have some extremely creative and imaginative clients. Because some of the themes that I have had the fortune to design and photograph have been beyond adorable (and in some cases hilarious).
To see even more, check out my Cake Smash Ideas Pinterest board!
Cake Smash Photos for Boys: Inspiration For Your Little Man
If You Give a Mouse a Cookie Cake Smash: This Haverhill MA cake smash inspired by the classic kid's book If You Give A Mouse A Cookie is one of my favorites we've done. Timeless with a touch of whimsy.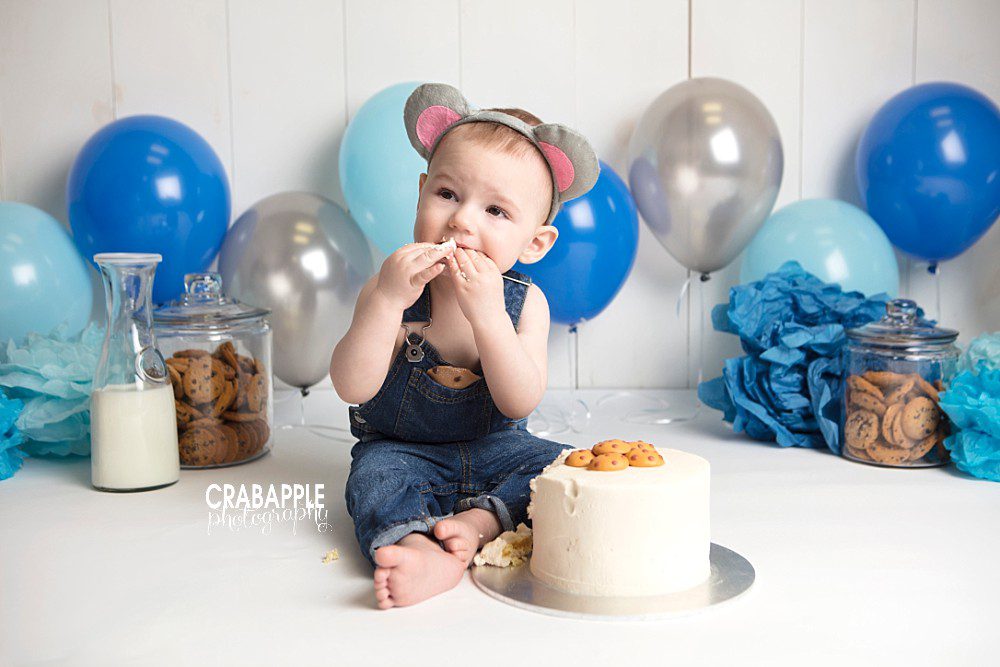 Rustic Woodland Cake Smash: Do you love flannel, bonfires and camping? This Andover MA cake smash photo session is the perfect cake smash theme inspiration for you.
Mickey Mouse Cake Smash: Who doesn't love Mickey Mouse?! Incorporating beloved characters is a great way to make a cake smash personal for your little one. This Newton MA first birthday cake smash session is a perfect example.
Monochromatic Cake Smash Ideas: If you want something a little more simple, but still cohesive, a monochromatic look is a great idea. This Lawrence MA all white cake smash is timeless and classy.
Sports, Snacks and Animals Can Provide Inspiration for Cake Smash Sessions
Rookie Of The Year Colorful Baseball Cake Smash: This Woburn MA cake smash is a perfect blend of colorful and classic.
Vintage Baseball Cake Smash: If you prefer a more neutral, vintage look for your baseball themed cake smash, check out this Reading MA cake smash session.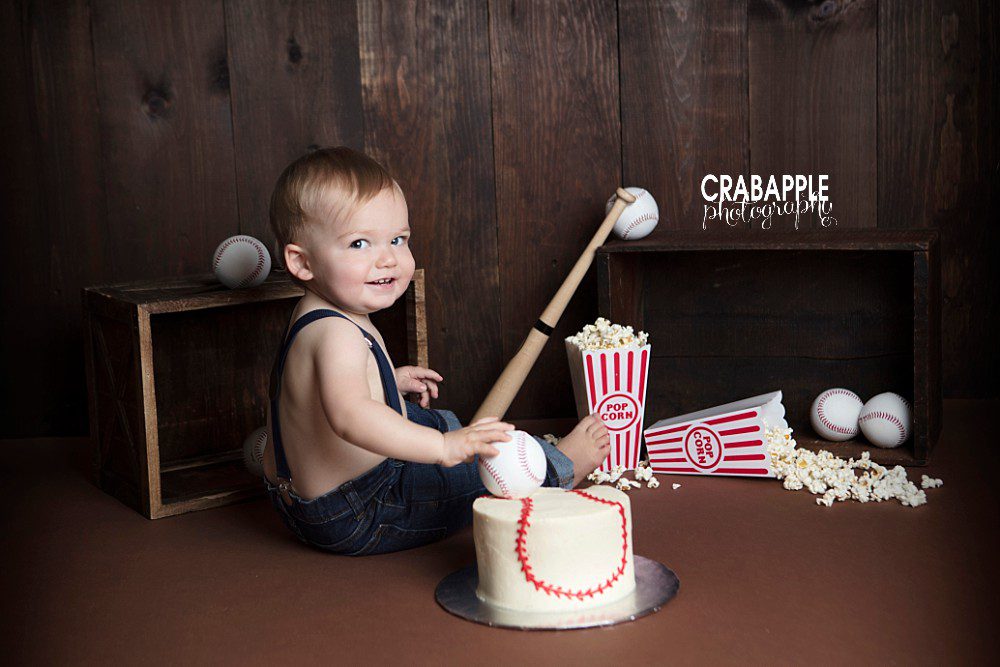 Donut Smash First Birthday: This Andover MA cake smash was the first donut smash I had ever done, but I loved it so much I hope it's not the last. And the delicious donuts are from my neighbor Somebody's Place.
Safari Cake Smash: A safari theme was something I definitely wanted to plan. And this North Andover MA first birthday session gave me the chance to do just that.
Rubber Duckie (You're The One) Cake Smash: This fun rubber duckie inspired Boston cake smash is perfect for families who want to do something sweet and classic for their baby's first birthday celebration.
Doggie Themed Cake Smash: Is your pup your baby's best friend? If so, you have the perfect theme inspiration for your little one's cake smash session. This North Andover session is a great place to start for doggie theme ideas.
Use A Holiday or Season As Inspiration!
4th of July Cake Smash: If your little one was born around the 4th of July, their birthday gives you the perfect inspiration. This Somerville 4th of July cake smash is a great example of how a theme can be incorporated flawlessly.
St Patrick's Day Cake Smash: Just like the 4th of July cake smash above, St. Patrick's Day is another easy theme that's perfect for a March baby. This Andover MA baby photo session definitely has the luck of the Irish!
Fall Themed Cake Smash: If you love all things pumpkin spice latte and want your child to as well, then I recommend a New England Autumn themed smash. This Manchester-by-the-Sea cake smash and child portrait session should be a great starting point when it comes to planning your session.
Lumberjack Cake Smash: A lumberjack theme is perfect for parents looking for a cute and rustic theme. I love this Boston cake smash session and I'm sure you will, too.
Books and Hobbies Are a Great Place to Find Inspiration!
Where The Wild Things Are: The classic Maurice Sendak children's book is an absolutely perfect cake smash and first birthday theme. Especially if your son (or daughter) is on the wild side! Check out this Arlington cake smash for more inspiration. And check out this Boston session for another Wild One Cake Smash.
Lakeside Outdoor Cake Smash: I was lucky enough to shoot this cake smash session outdoors and on location at Lake Winnipesaukee in New Hampshire. But for parents looking for a similar vibe closer to home, send me an email and we can find a location perfect for your session!
Fishing Themed Cake Smash: I love the idea of incorporating hobbies into milestone sessions, and cake smash sessions are the perfect time for this. If your family loves fishing, you're right at home here in Massachusetts!
Classic Nautical Cake Smash: Are you more into classic, timeless themes? You can't go wrong with a nautical theme, especially in Massachusetts! Perfectly preppy and will ensure your portraits go perfectly with your home decor for years to come.
Space Ship Cake Smash: Looking for a cake smash that's out of this world? A space ship theme like this Boston cake smash photography session is the way to go!
Batman Cake Smash: Superheroes are always a good idea. This Batman comic themed cake smash from Chestnut Hill is super perfection. If your child is your superhero, give them a superhero themed first birthday photo session!
For a Subtle Theme — Choose a Favorite Color!
Blue Cake Smash Inspiration: Using a color or color scheme as a focal point for your son or daughter's cake smash photo session is always a great idea. This Massachusetts first birthday portrait session used different shades of blue to decorate.
Blue and Gold Cake Smash for Boys: Looking for a color scheme that's still classic, but not as expected for your son's cake smash? Blue and gold is a great option. It pairs classic navy blue with a touch of glam. This Massachusetts cake smash session is a great example.
Cake Smash Photos for Girls: Inspiration For Your Little Lady
Smash & Splash First Birthday: It's inevitable that your little one is going to get messy during their cake smash. Which is what makes a smash & splash a great choice! And this Georgetown MA smash & splash baby portrait session is one of my favorites.
Butterfly Themed Cake Smash: For a perfectly pretty and feminine touch, just add butterflies! See more whimsical butterfly ideas in this Bedford NH baby portrait session.
Astronaut and Outer Space Cake Smash: I mentioned a space ship theme in the boy's list, and Miss G from Methuen is here to say this theme works for girls, too! Now this is a great reminder that any theme can work for boys or girls!
Winter Wonderland Cake Smash: Do you want to honor the season your little one was born in? A winter wonderland (or ONE-derland) theme is the perfect choice for your winter baby. Check out this Salem NH baby photography session to see more.
Magical Creatures and Characters Can Make A Cake Smash Extra Special
Unicorn Cake Smash Ideas: This Haverhill MA cake smash is a great starting point for magical unicorn cake smash ideas. For more Unicorn Cake Smash inspiration check out this Cambridge MA Unicorn Cake Smash, too.
Pink Minnie Mouse Cake Smash: Incorporating beloved characters is always a great idea. And there are few characters more beloved than Minnie Mouse. Use this Windham NH session to inspire your Minnie Mouse cake smash!
Mermaid Cake Smash: Foster your little lady's imagination by including magical mermaids in her cake smash session like in this Wilmington MA session.
Robot Cake Smash Ideas: Think outside the box and have a robot themed cake smash for your little lady like this Boston first birthday photo session.
Rainbow Unicorn Cake Smash: The only thing better than a unicorn? A rainbow unicorn! This Andover MA cake smash session had the right idea.
Princess and the Pea Cake Smash: This Boston cake smash took inspiration from a storybook. What could be better than having your daughter be a princess for her birthday photo shoot?
Find Inspiration in the Outdoors! Or Bring the Outdoors Inside
Outdoor Fall in New England Cake Smash: Massachusetts is known for a lot of things. And our gorgeous New England autumns is one of them. Celebrate the beautiful season with an outdoor fall cake smash!
Floral Cake Smash Inspiration: Do you know what theme is pretty and perfect? A floral theme. Make sure you check out this Boston cake smash for more ideas for your daughter's first birthday baby photos.
Outdoor Summer Cake Smash: Autumn in New England might be an iconic time, but Summer is gorgeous, too. This outdoor summer cake smash in Arlington is the perfect inspiration.
Boho Flower Cake Smash Ideas: Two things that are always in style: flowers, and boho. Combine them both for a beautiful cake smash like this Wellesley session.
Pretty In Pink (or Purple): A Favorite Color Is A Great First Step For Choosing A Theme
Pink and Gold Cake Smash: Pink and gold is such a perfect color combo, especially for a fun and festive cake smash session like this one. And for even more pink and gold inspiration check out this Boston first birthday photo session.
Bright Color Cake Smash Ideas: Not convinced a theme is the right idea for you? Find inspiration in your favorite color. Whether that means a monochromatic cake smash. Or maybe one including all of your favorite bright colors like this North End Boston cake smash.
Pink with White, Silver, or Gray Cake Smash: Another pink color scheme that is cute and classic is pink with white, silver, or gray like this South Shore MA session. Light shades of pink pair perfectly with all shades of white, silver and gray. And as an added benefit, this color scheme goes well with just about every style of decor which makes it perfect for wall art! You can also check out this Massachusetts First Birthday Session for more inspiration.
Teal and Purple Cake Smash: If you're looking for a color scheme that's a little unexpected, purple and teal is a great option. This Andover first birthday cake smash photo session is the perfect example.
Are you looking for a cake smash photographer in Massachusetts? Crabapple Photography is a full service photography studio specializing in baby, child, and family portrait photography. For Cake Smash photo sessions we work with parents from start to finish to customize each session according to theme and color. Want more cake smash inspiration? Check out our Cake Smash Pinterest board! For more information or to book your session, Contact Kate today!