Mr. L's Mickey Mouse Cake Smash Portraits from Newton MA
Mr. L and his family visited my studio from Newton MA to celebrate his first birthday with portraits and a fun Mickey Mouse cake smash! His family included mom, dad, and big sister who was five. Even though it was a photo shoot to celebrate Mr. L's birthday, I made sure to take some portraits of big sis, too. I even got to add a little magic to her photos in post processing. Fun photos like this one are always a big hit with the kids. Who doesn't love a little magic?
Some family portraits and sibling shots were also included. I love the look of this sweet and whimsical tee pee. Both big sis and Mr. L had a few different outfit changes throughout the course of the session. This is one of the benefits to having a full session vs a mini session. It gives you the chance to add some variety to the session. In this case, big sis had a casual outfit, a more formal option, and a floral dress that matched mama's dress for family portraits.
For sweet children clothing, both casual and formal, I recommend Hope and Henry or Bella Bliss.
Incorporating A Theme Into Your Cake Smash Photo Session
If you've taken a glance at my cake smash session gallery or blog posts, chances are you know I love a good cake smash theme. Whether that theme is based on a popular children's book, a mythical creature, a favorite animal, or anything in between. I have never had a client mention a cake smash theme that I WASN'T excited for.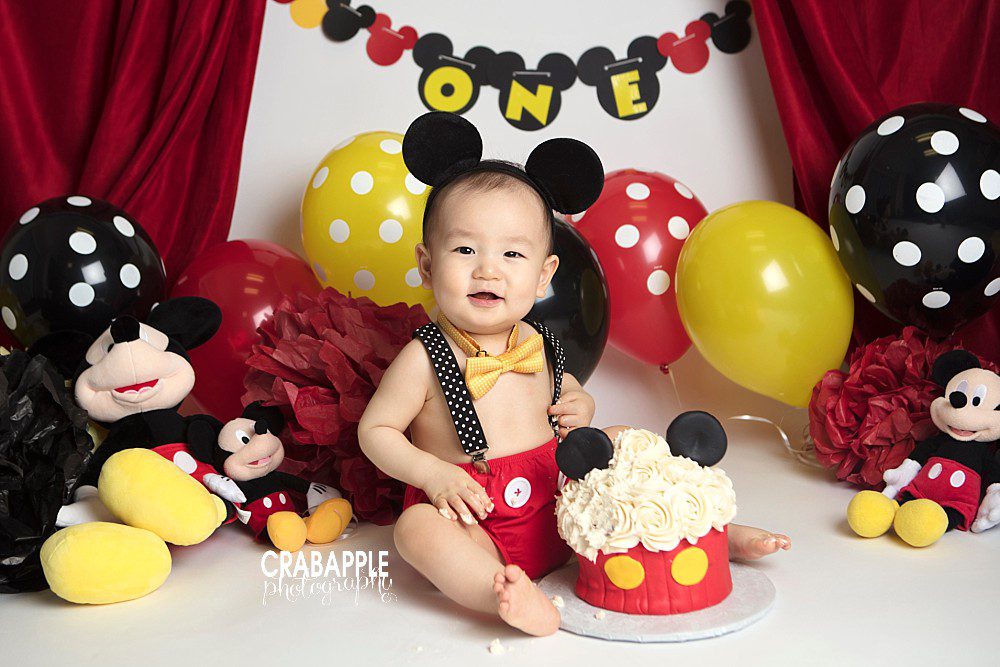 In this case, that theme was Mickey Mouse. I think my team and I pulled it off. Red, black, and yellow balloons and paper pom poms, along with red curtains and a custom Mickey Mouse banner made for the perfect backdrop. And of course, Mr. L's Mickey Mouse outfit made these portraits extra mouse-tacular! For the perfect themed outfit or accessories, I always check Etsy first.
For more theme ideas, check out our 2019 Cake Smash Bucket List post. There are still some themes I would love to photograph!
Displaying Your Child's Portraits At Home
My team and I are here to make every aspect of your portrait session as easy and stress-free as possible. This includes sending out styling questionnaires before your session to make sure we have an idea of what you would like before you even get to the studio. In the studio we take care of everything from set design, to helping wrangle your children, and acting like a fool to get the picture perfect smile. And after the session, we help you choose what prints and products work best for you. This includes creating wall art mock-ups using your own walls and rooms. Below is an example of a gallery wall created for this family. No more guessing what works best.
Are you looking for cake smash photos near Newton MA? Crabapple Photography is located in Andover MA and serves clients from around the area including Wellesley, Cambridge, Waltham, Brighton and more. Kate McKenna has over 11 years experience photographing babies and children of all ages. Contact Kate today.