Haverhill Cake Smash Photographer :: If You Give a Mouse a Cookie
Mr. B and his parents came to my Andover MA studio from nearby Haverhill for his one year baby portraits and cake smash photos. I was so excited for this session for a few reasons. For one, I love a good themed cake smash! But also, I was just so excited to get to celebrate Mr. B's first birthday with his sweet family. I had photographed Mr. B quite a few times before this, and I've seen him since. I first photographed him for his newborn session, and then again for his 6 month milestone session. He also came to the studio for Valentine's Day mini sessions (he was the cutest little Cupid!) and he got to meet Bun Bun during our spring mini sessions! I always love getting the chance to catch up with this family.
As usual, I started off this session getting some family portraits. Mr. B was twinning with his dad, got lots of cuddles and kisses. But then it was all about him! We took some portraits of him in a vintage wooden high chair, and I thought he couldn't possibly get any cuter than wearing that button down shirt. Turns out, he could get cuter! Keep scrolling to see the cutest little mouse around.
Using a Theme in these Haverhill MA Cake Smash Photos
At Crabapple Photography, we love a theme–especially for a cake smash session! And over the years, I've had the chance to incorporate a bunch of different themes into these photos. In this case, mama had the idea of doing a If You Give A Mouse A Cookie themed cake smash and I was so excited for this one. The best thing about customizing these sessions is that we can make the backdrop as simple or elaborate as you want. In this case, the backdrop was rather simple. The white background with balloons and puffs in shades of blue and silver is a great starting point. But the details definitely make this session. The clear jars milk and cookies are adorable. But the most adorable part? Mr. B as the mouse! I mean, how precious are those denim overalls? There are few things cuter!
To see more cake smash sessions that I've shot in the past check out our Cake Smash Ideas Pinterest board! I also have a post all about cake smash themes you can check out here: Cake Smash Theme Ideas.
And for some cake smash ideas and inspiration, don't forget to take a peek at our Cake Smash Bucket List!
What Mom is Saying
I can't say enough wonderful things about Kate and her team. Kate has captured my munchkin's first year so perfectly. From mini sessions to portrait sessions, Kate is kind, patient, and easy to work with. I'm so thankful for to have Kate as our go to photographer. She is compassionate, artistic, patient (most important when a child is involved!) and always a gem to work with. Thank you so incredibly much for capturing the highs of our past year! -Mr. B's mama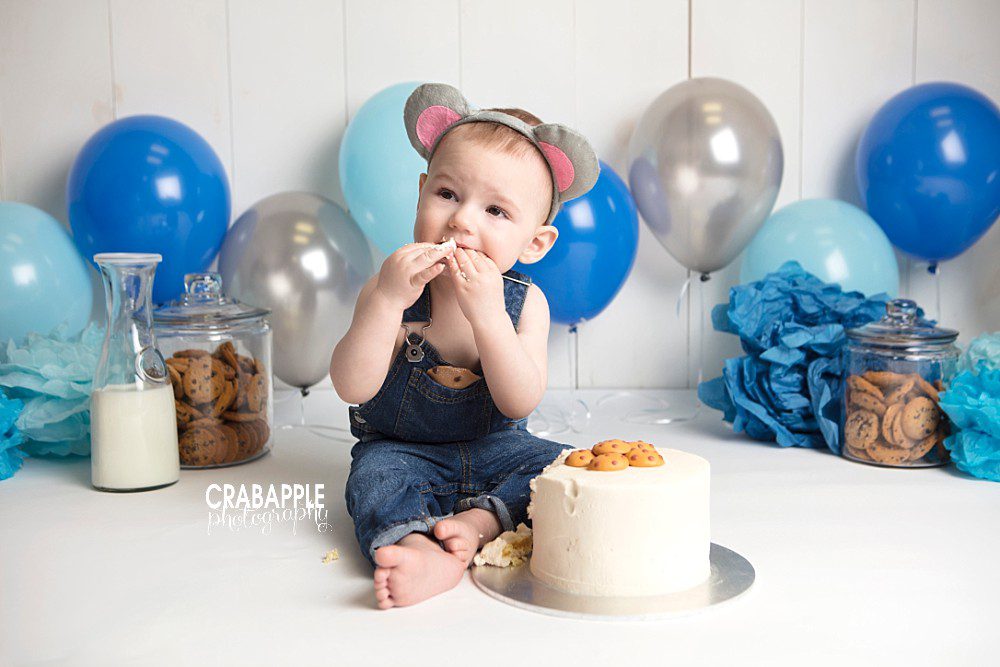 Choosing Prints and Products
After any session, it's time to choose prints and products. For some clients, this is a super easy decision. And for some, it can be a bit overwhelming. But I'm here to help! Whether that means with a viewing and ordering session in-studio or virtually to help walk you through your photos and your choices. Or helping you create a custom fine art or press printed album. I can even help you choose wall art for your home. You simply send me a photo of the wall you're looking to decorate. And then I can digitally add your photos as framed artwork or gallery wrapped canvases. No more second guessing how things will look! As a Haverhill area photographer, my goal is always to make these sessions as easy and stress-free as possible for my clients.
Below is an example of a wall art mock-up using photos from these Haverhill MA cake smash and family photos. This is a great example of a wall gallery using both framed artwork and a canvas in the same gallery.
Are you looking for a cake smash photographer in Haverhill MA? Crabapple Photography in Andover MA serves clients from around the Merrimack Valley including Bradford, Georgetown, Amesbury, Beverly, and beyond. To see more Haverhill cake smash photos check out this post: Unicorn Cake Smash First Birthday Photos. Kate McKenna is an Andover Photographer with over 11 years experience photographing babies and children of all ages. Contact Kate to book your session now!