Mr. B's Vintage Baseball Cake Smash :: Reading MA
Mr. B and his family came to my studio from nearby Reading MA to celebrate his first birthday with some family portraits and fun vintage baseball themed cake smash photos. Mr. B's birthday is in November, which meant this was also the perfect time to get some quick holiday family portraits as well.
We started out the session with some family portraits, as I almost always do. This helps everyone get comfortable with me, my assistant, and my studio. It can sometimes take a while for children and babies to be comfortable (stranger danger is real!). I've found that if they get to stay with their parents, plus if they see their parents feel comfortable with me, they relax much faster. After family portraits, it was time for some sibling shots of Mr. B and his big sis, Miss S. I love the photo of Miss S giving her baby brother some snuggles.
Incorporating A Theme Into Your Child's Photos
Cake smash sessions like this Reading MA cake smash are all about having fun and celebrating this important milestone. Which means its the perfect time to incorporate something special or personal. Over the years, cake smash themes have included everything from beloved childhood books and characters, to whimsical and magical themes. For Mr. B, it was all about baseball. We went with a sweet and simple vintage baseball themed. Some piled up baseballs, a few boxes of popcorn, and the cutest baby in suspenders was all that was needed for this Reading MA Cake Smash!
For more cake smash theme inspiration, you can check out our Cake Smash Pinterest board. And don't forget to check out our Cake Smash Bucket List to see what we still have to cross off our list!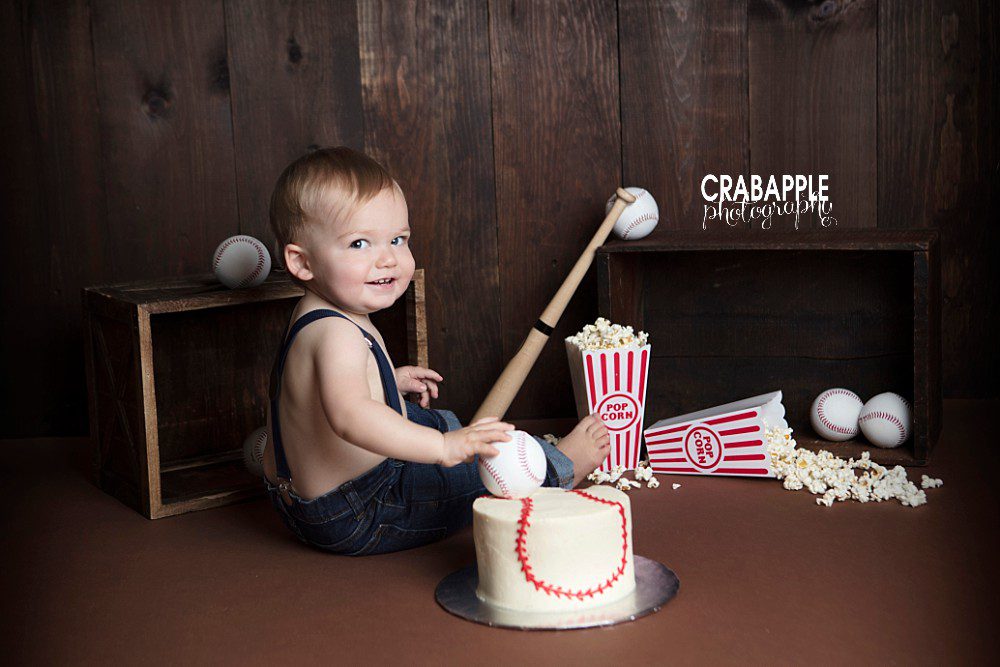 Are you looking for cake smash photos near Reading MA? Crabapple Photography is a full service boutique photography studio conveniently located in Andover MA. We serve surrounding towns including Lawrence, Woburn, Wilmington, Lynnfield and more. Contact Kate today to book your session.