Mr. R's Newborn Portraits with Props :: Melrose MA Photographer
When Mr. R's big sister Miss R was a newborn, she and her family came to my studio for a portrait session full of whimsy and props. I loved that Andover newborn session so much! So I was extra excited to have them back in my studio for baby brother's session. Before any session I send out a questionnaire to go over styling, poses, props and more. For this Melrose newborn portraits session I was thrilled to hear that mom and dad definitely wanted to include some props. Each parent had a must have in terms of props. For dad, it was Mr. R on the stacks of luggage. For mama, it was the burlap crescent moon. These are two of my favorites, and I love how they came out!
Choosing Props for Baby Photos
I love that these Melrose newborn portraits were full of the same whimsy and fun that big sister's had. While we still kept the actual props used unique to baby boy. One of the greatest things about photographing numerous babies in the same family is the ability to create this sense of cohesion across multiple sessions! This session had a great blend of rustic, vintage, and unique props. The perfect inspiration for all of your newborn portrait prop desires!
For more newborn photos like these Melrose portraits check out my recent Newborn Photography Round Up and my Newborn Photo Ideas Pinterest board!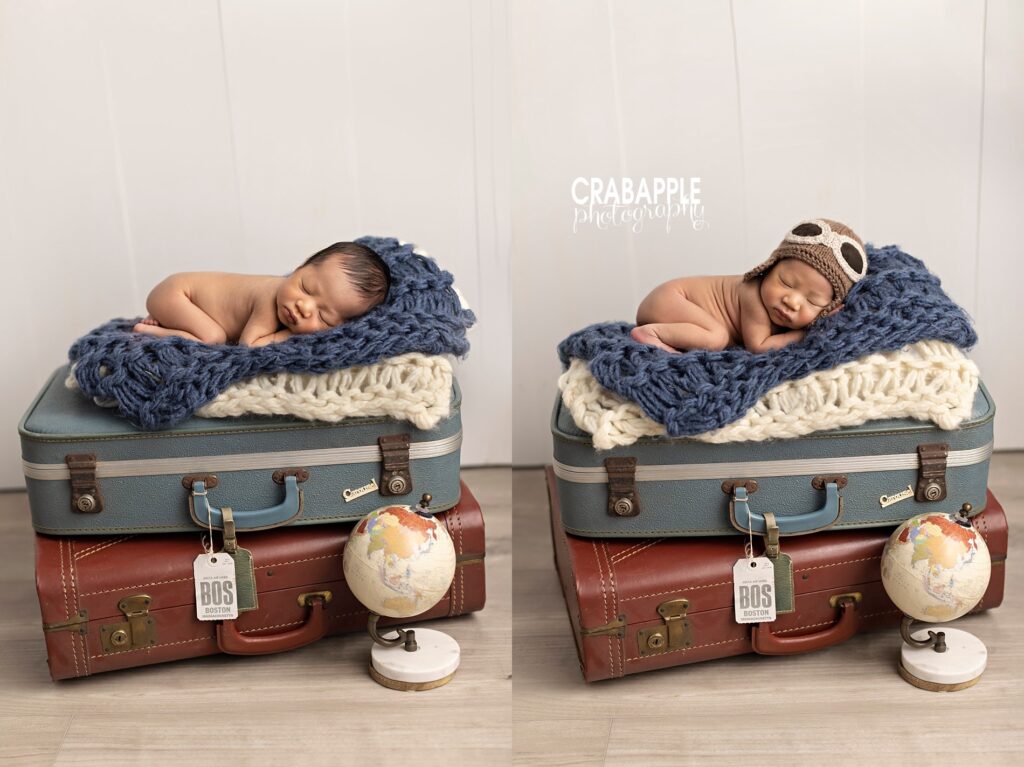 Are you looking for newborn portraits near Melrose MA? Crabapple Photography in Andover serves clients from around the area including Winchester, Wakefield, Stoneham, Reading, and beyond. Kate McKenna of Crabapple Photography has been a professional portrait photographer since 2009. In the years that Kate has been photographing babies and children throughout Massachusetts, she has become known for her stunning newborn portraits. Contact Kate today to learn more!